Claim your extras benefits at a HICAPS terminal using the ahm app and a tap of your Android phone.
System requirements
This feature is available for ahm members with extras cover, using the ahm app on an Android phone with the following:
Android 6.0+

NFC (tap-to-pay) capabilities enabled

Version 6.0.0 of the ahm app or later
Set up your Android Phone to pay extras on HICAPS
To begin, enable NFC (Near Field Communication) on your Android phone:
Tap on settings
Click connections
Turn NFC and payment on
Next, log in to the ahm app on your Android phone.
Find your digital card on the main screen and click to select it. See below.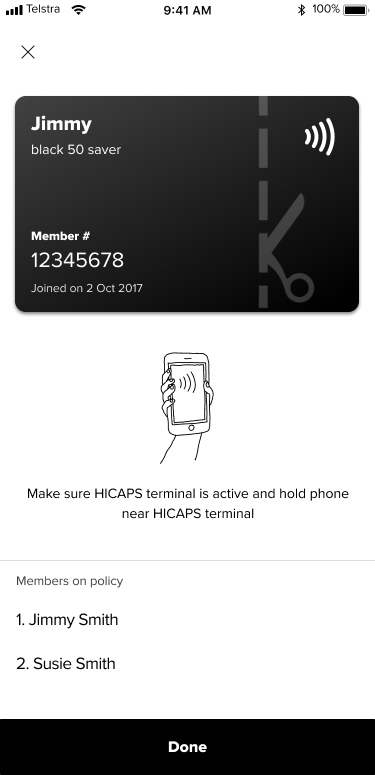 After this you're ready to claim.
How to claim
Ask the provider to activate the HICAPS terminal so that it displays 'Swipe, insert or tap your card':
Make sure no amount or '$0.00' is displayed on the HICAPS device before tapping. If an amount has already been entered before tapping, this may charge to your default NFC payment method
Open the ahm app on your Android phone, showing your ahm digital card. See image above.
Hold your phone to the HICAPS terminal for a few moments until the terminal progresses to a new screen. Your phone will also vibrate and say 'tap successful'.
The provider will ask you to confirm the 'Patient ID' of the member making the claim - which is the number shown next to the policy member's name.
When will the digital card be available for Apple iOS?
We don't have a set release date for this feature yet. As it nears release, we will update this FAQ with an expected release timeframe.
Can I use the digital card as soon as I join?
At this stage, if you've just joined ahm you will need to wait until the next business day to be able to access the ahm digital card.
Troubleshooting
The HICAPS terminal didn't register my 'tap'
Make sure the HICAPS terminal you are presented with is active.
It should display some text saying 'Swipe, Insert or Tap card' like this.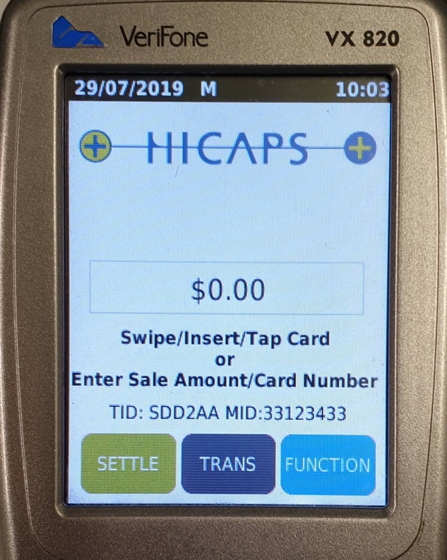 Make sure you have the digital card open in the ahm app and NFC is enabled on
your Android phone. (See how to set this up above.)
I can't open my digital card in the ahm app
If you can't see your ahm digital card in the ahm app, the most likely reason is you do not have ahm extras cover as part of your policy and/or;

Your Android phone does not have the necessary NFC capabilities to use this feature (See 'System requirements' above.) You may also need to update your ahm app for Android to the latest version here.
I got an error or rejection message from the HICAPS machine using my ahm digital card
If this happens, please check the following in your ahm app:
Check you are covered for the extras service you are claiming for and;
You have not exceeded any of your annual limits on this extras service and;
You have served any applicable waiting periods before you can claim.
It's always best to check your annual limits on your extras services before you
claim on them. You can view your remaining annual limits on the main screen of the ahm app.
If your claim has not been rejected for these reasons, please keep a copy of the failed claim receipt, or note the HICAPS error code, and email the details to newrequests@ahmdigital.zendesk.com so that we may assist with your claim.

For help or more information on any of this, chat with us or call 134 246 weekdays, 8am – 7pm (AEST/AEDT)