We throw around words like 'premium' and 'benefits' every day in the office, but there are plenty of people who are only just dipping their toe into the world of private health insurance (very exciting). So, if that's you, don't worry, we've got you.
Whether you're signing up for private health insurance for the first time or making the switch to ahm, you've probably got some questions about how things work. This explainer has you covered. Come on in, the water's fine.
If you've still got any questions just get in touch.
How does private health insurance work?
Once you've settled on a health insurer, you then pick a type of cover that has the features or services you might need in the future (like rehabilitation, routine dental, dental surgery, optical items or physiotherapy, for example – things that aren't usually covered by Medicare) and start paying a premium. Then, provided you have served any waiting periods, when you go to hospital as a private patient, or see the dentist or physio, or need a new prescription for your reading glasses, your health insurer helps you out with the bill, up to your annual and lifetime limits.
Find out more about extras cover or hospital cover.
What are the benefits of having private health insurance?
Outside of helping you with the bill for different types of health-related products and services, having private health insurance can give you more choice.
For example, if you do need to go to hospital, having private health insurance with a health insurer like ahm also means you can be treated as a private patient, so you can generally choose the doctors and specialists you see – and even the hospital itself.
While having private health insurance requires you to pay premiums, there's a range of incentives and discounts you should know about.
Medicare Levy Surcharge
For example, if you earn over a certain income* level and don't have an appropriate level of hospital cover for you and all of your dependants* (if you have any), you might have to pay the Medicare levy surcharge. You'll be exempt from paying the Medicare Levy Surcharge for the proportion of the tax year when you and your dependants* held an appropriate level of private health insurance hospital cover.
*"Income" and "dependants" have special meanings for MLS purposes.
Lifetime Health Cover (LHC) loading
Plus, if you take out hospital cover before 1 July after you turn 31 and maintain hospital cover, you won't have to pay Lifetime Health Cover (LHC) loading. However, if you don't have hospital cover by 1 July following your 31st birthday and you choose to take out private health insurance later in life, a loading of 2% will be added to your hospital cover premium for each year you're over the age of 30 without hospital cover. The loading will be applied for a maximum of 10 consecutive years. That means, once you have held hospital cover for 10 consecutive years, you will stop paying the loading as long as you retain your hospital cover.
Australian Government Rebate on private health insurance
If you meet certain criteria, you might also be eligible to get a private health insurance rebate (an amount the government may contribute towards your premium to make it more affordable).
Youth Discount
The Youth Discount is also an incentive when it comes to health insurance. If you're aged 18 – 29 and a Principal member or partner, you can get a discount on your hospital cover. And if you keep continuous hospital cover, the Youth Discount you get when you first become eligible will stay the same every year until you turn 41. Learn more about the youth discount on health insurance.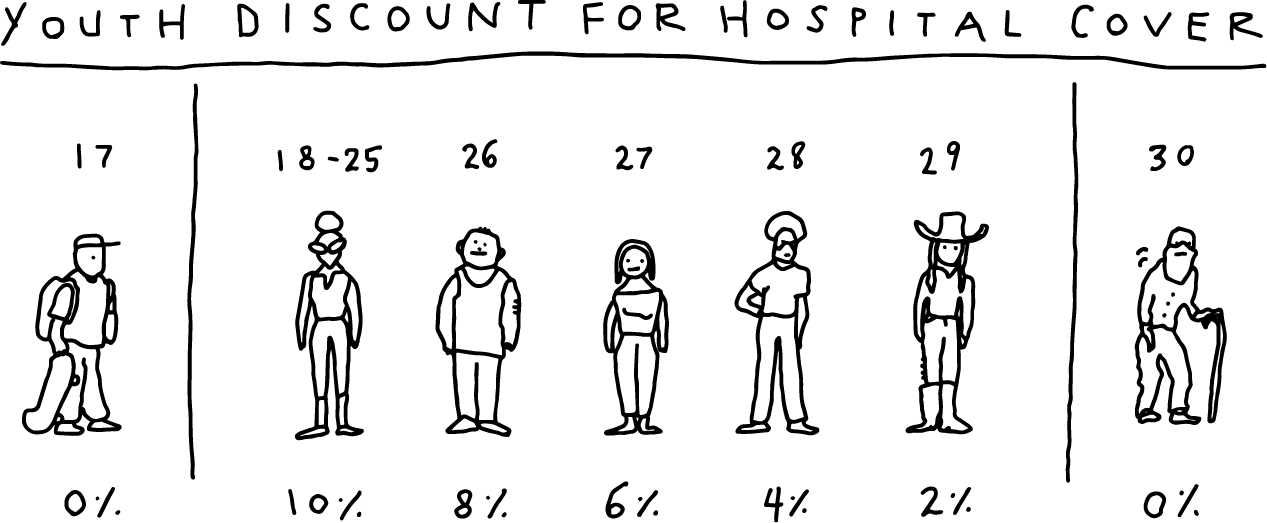 What age do you need health insurance?
Nobody is required to get health insurance, at any age. But often as we get older and our medical needs change, it becomes a handy thing to have.
If you're under 25 and your parents have a family private health insurance policy, that will generally cover you. But after your 25th birthday, you need to choose your own policy.
If you're about to turn 31, it's time to start doing the maths. If you join private hospital cover after 1 July following your 31st birthday, Lifetime Health Cover (LHC) loading will apply, and will make the premium you pay for hospital cover a bit more expensive. Signed up before that date? Then you don't have to worry about paying the loading.
Do I need private health insurance?
That's a decision we can't make for you – but what we can say is that private health insurance can generally give you more choice. If you find yourself paying the Medicare Levy Surcharge, needing treatment in hospital, paying for treatments included in Extras cover or picking up medication not covered by the PBS, it sounds like private health insurance might be a good fit for you.
To find out more about extras click here, and to find out more about hospital cover click here.
How to apply for private health insurance
Get started by figuring out what kind of cover you need, and we'll take you through the application process from there.
What documents do I need to apply for health insurance?
It takes less than 3 minutes to join ahm, but who's counting? Have these handy and you're set to go:
Your Medicare card
Visa, Mastercard or bank account details
Contact us or explore our help section for more answers.
For independent private health insurance advice, visit privatehealth.gov.au.